SHOW INFORMATION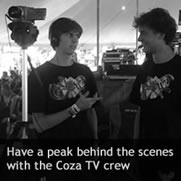 Coza TV is an online entertainment channel run as a skills development project out of the Durban-based professional media studio, Siyabonga Media (see www.siyabongamedia.co.za for more). Its small but enthusiastic and creative young team are passionate about the local entertainment scene, and have been overwhelmed by the positive response they've received from the industry so far. Since its inception, the team has interviewed and featured the live concerts of South African superstars such as Goldfish, Prime Circle and Mango Groove!
Coza TV content is currently broadcast over the internet from its website at www.cozatv.co.za. The website is the ideal platform for both the local and international community to find out about South African artists, events and venues.
Host presenter is Ted Cipolla (18) who reports on site with interviews with key personalities on the stories in question. The show has had a variety of other presenters and crew members since its inception as it remains ultimately a project initiated to enable youth who are interested in media to gain hands-on experience. The production team leader is Stephen Horn (19), who founded the channel in January 2010.
"I just wanted to try something new," he explains. "I felt there was a niche in the local entertainment scene to offer a new outlet for publicity. The audiovisual world as well as the arts world fascinate me and by using online facilities, this is a way to bring them together. Our unique selling point is that we are young in our ideas but supported by a respected and professional studio which makes high quality production possible."
If you are interested in seeing some behind-the-scenes stuff, check out our new Inside Coza TV photo album. To find out who's in the Coza TV team, click here. If you have any feedback or queries, please address them to coz@cozatv.co.za or write on our Facebook page.